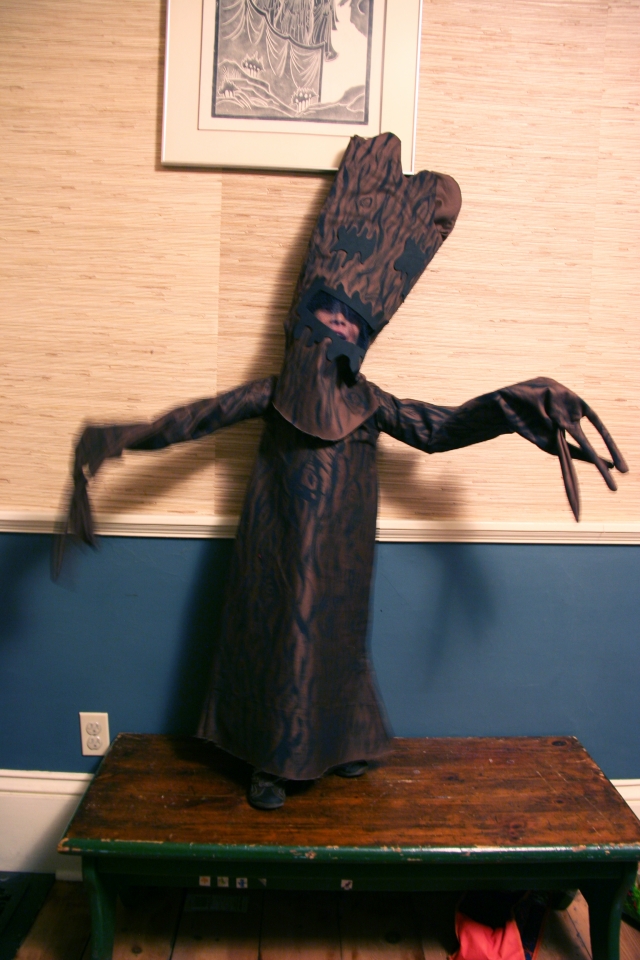 Preliminary discussions for Halloween costumes usually start in early- to mid-October. Otis usually brings it up first. He'll have some initial ideas and then we spend the next couple weeks refining them.
This year, after considering "ghost" and "monster" for a bit, Otis had an epiphany. He said he wanted a costume that would scare the other kids. I asked him what he was scared of and after the requisite "I dunnoooo…" he remembered a story he'd recently read. In the October issue of Ranger Rick Jr., Rick and his pals decide to go camping in the woods. For some insane reason, they decide to set up their sleeping bags under the haunted tree. (SPOILER: Turns out it was just an owl.) Well, the story had an illustration of the tree and Otis was a little terrified. I mean, he was fascinated by the tree, but he also wanted me to take the magazine out of his room at night. It didn't take much thinking before both of us realized this would be the perfect costume.
Here's the inspiration:
After stressing for several days about how to make the costume, I came up with a plan. The first step was to buy some material. I got a couple yards of brown fabric and one yard of black mesh from Walmart and I had some project foam leftover from last year's anglerfish. I also got some sheet foam to give the head part some structure.
Next step was measuring the boy. I figured I could sew/pin the head foam to a black hat which would also help keep his head warm. This required getting a noggin circumference: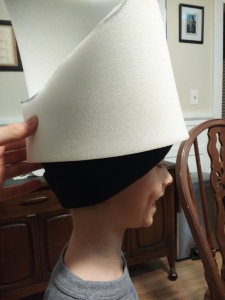 I also had Otis lay down on the brown fabric and I traced around his body. I cut two identical Otis shapes, sewed 'em together, and turned the whole thing inside out. Turns out I didn't leave nearly enough for the three-dimensionality of his body and the first attempt was way too small. Fortunately, I had enough extra fabric to make another, larger suit. This one was still a little tight, but after cutting an extra slit at the back of the neck and sewing a button-hole, I managed to squeeze the kid inside.
For the head, I made a two-sided sleeve to fit around the head piece of the trunk. I cut out shapes for the eyes and mouth and made a mesh window for Otis to look through. It all came out pretty good:
And the whole thing: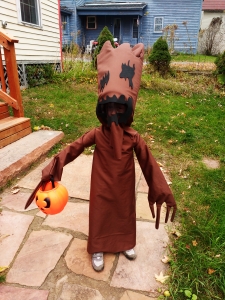 Off we went to the costume contest in town! (We were robbed. "Bat boy," whose mom had simply sewn a couple wing-y things under the arms of his hoody, got first place in the "scary" category. Kid had good stage presence, but the costume was lame.) We decided the scary tree needed a little more pizzazz and added some bark patterning with acrylic paint. This made the whole thing way more impressive: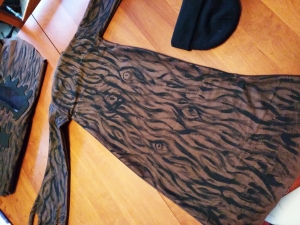 And the head: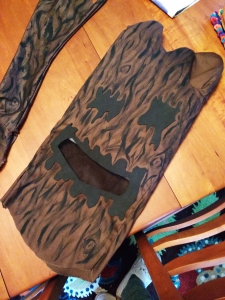 The whole thing was finished just in time. It was super rainy on Halloween, but Otis and I hit the streets hard. One lady asked to take a picture with him on her porch and whispered to him that he had the best costume of the night. That was all I wanted to hear!
(The only problem was that everyone kept calling him Groot. Oh well.)
June, by the way, was a monkey:
She'll get a homemade costume as soon as she's old enough to think of something!