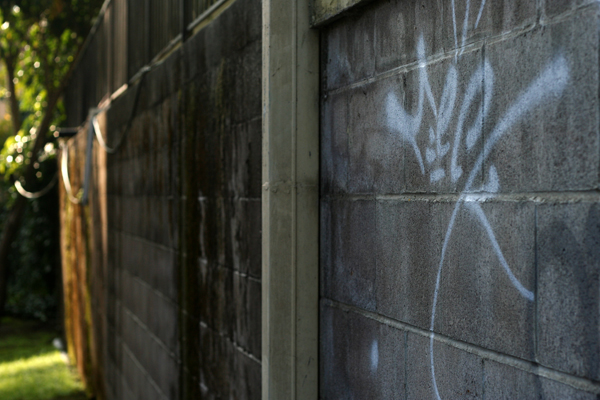 Well, after posting a few photos of work by nefarious Berkeley graffiti artist Meck, I've found myself consumed by an obsession to find more. It's like a kind of photo-nerd treasure hunt.
And… I'm continually impressed! Meck's work always seems to be uncannily well-suited to its surroundings. His/Her choice of colors, as I've said before, are impeccable. Recently I've been noticing how the media is carefully chosen as well. This graffiti isn't just spray paint and sharpies. Meck seems to have an equal command over latex paints and wax crayons as well!
On a similar note–and I think I've expressed this concern before–I tend to worry a little bit about the originality of taking photos of graffiti. I do it all the time, and frequently (as you've probably seen) act on the impulse to post such pictures. But can I really claim it as my art?! (I do try to frame the various subjects in unique ways…) Or is it collaboration?