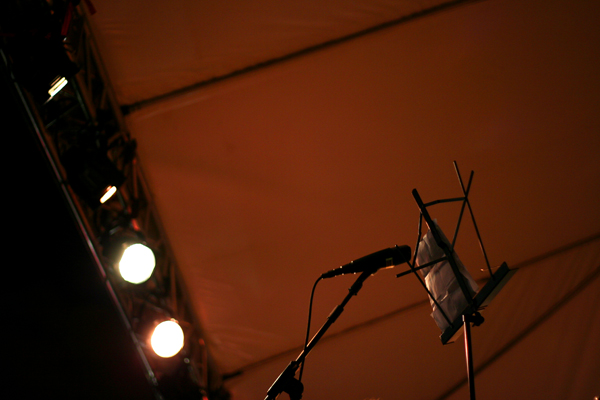 Well… This is it. I'm having a hard to believing it, but I seem to have arted and farted my way through one thousand pictures on this photoblog! (Yowza!)
To celebrate, I'm putting up a new design template. It's not the shocking overhaul I had originally foreseen, but I think it's a suitably elegant upgrade to the old layout.(Plus it looks a little snazzier, which ought to further fuel any delusions of professionalism I have about these photos.) You can still switch between light and dark color schemes as you see fit. (Mix'n'match!) Any feedback scores you some big time karma points!
Starting now, I think I'm also going to try leaving more detailed descriptions of the pictures I post. This one, for example, was taking pseudo-backstage at the Elvis Perkins set at the Seattle Bumbershoot festival. Not a bad concert! And by this point, most of the fest-attendees were bumping shoulders to stake a good claim for the soon-to-be-commencing De La Soul set. (Which was, I might add, outstanding… even from the beer garden in back.) The result: a more subdued crowd and an intimate setting.
Alright… I probably won't have too much to say about every picture, but we'll see what happens…
Many thanks to the three or four (or five?) people that leave comments!