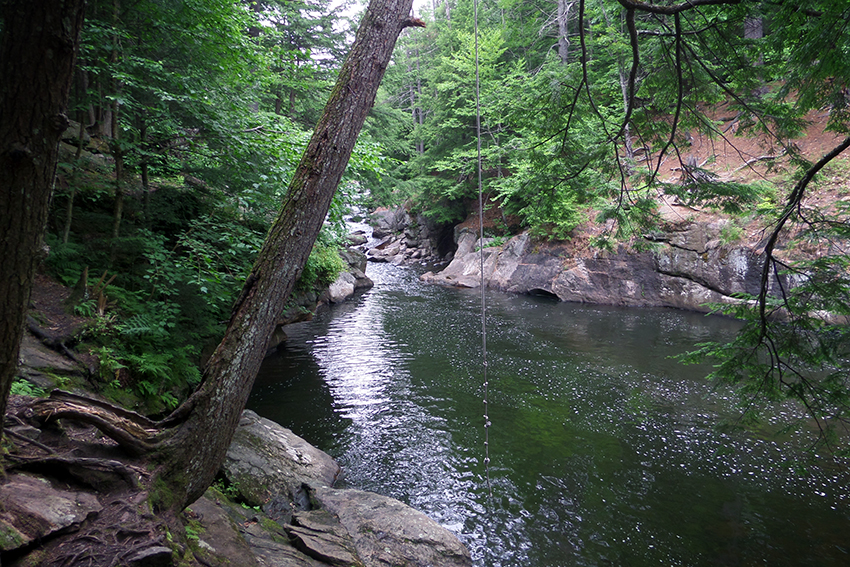 Heading home from a Mass. tour, we stopped and picked up sandwiches from Oscar's Smokehouse in Warrensburg(h). (Based on local signage, it's difficult to tell if the "H" should be there or not.) Then we drove down the road a bit to look for Black Hole, a swimming spot we'd read about online.
The directions were vague and contradictory. We found a swimming spot, with a nice waterfall, but it didn't look like the pictures. Otis and I looked upriver a bit, but the water just got shallower and shallower. We got in the car and drove around for a while, getting out now and then to check the river, but no luck.
It wasn't until we gave up after about an hour of searching that we checked just downstream from the parking spot. Boom. There it was. Sarah was antsy to get back home as she was working that evening, but agreed to let me pull over, scramble down the cliff, and take some pictures. I couldn't resist jumping in and got back to the car in record time, wet but satisfied. We vowed to return.
You can't see it in this picture, but there's a second rope swing near the deepest part of the pool. You take off from the top of a 15′ cliff…)