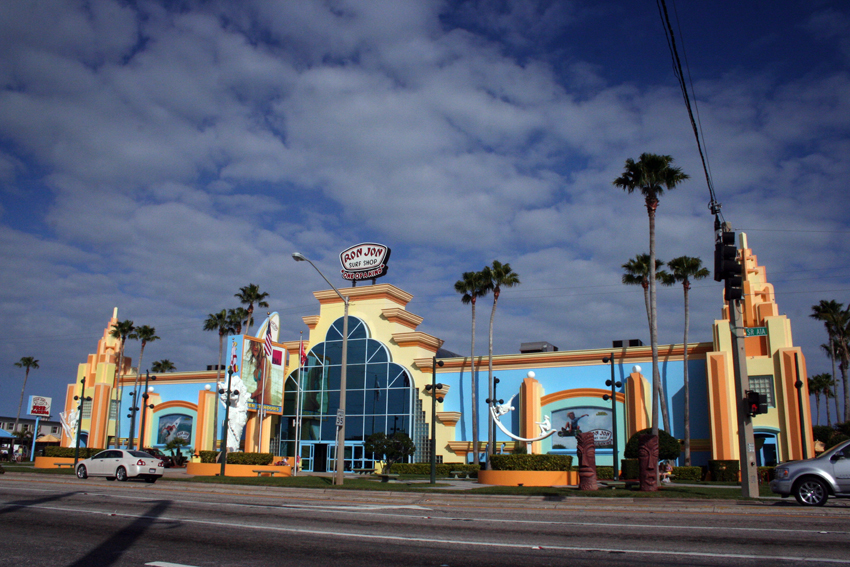 …if it weren't for the giant, matched billboards appearing every ten miles or so on either side of every highway leading into Orlando starting eight hours north.
Also: it's gigantic.
Ron Jon HQ in Cocoa Beach is hands down the most preposterous surf shop I have ever been to. That is, if it can really be called a surf shop. It's really a humongous temple to the surf industry, complete with a giant statue of Kelly, Florida surfing's savior, out front. (It's somewhat obscured by a lamppost in this picture.) Most of the interior is filled with clothing racks, though they do have a sizeable collection of new boards for sale upstairs. Not that any surfer worth his or her salt would buy one there. (They're all outrageously overpriced.)
I was in the market for a new board, so after soaking in the corporate majesty of Ron Jon for a little while we moved on. Turns out, nearly every surf shop in Cocoa Beach is an illusion. They all say "surf shop" on the sign, but the surfboards for sale inside are really just for show. We had to go to five shops before finding a single used board for sale.