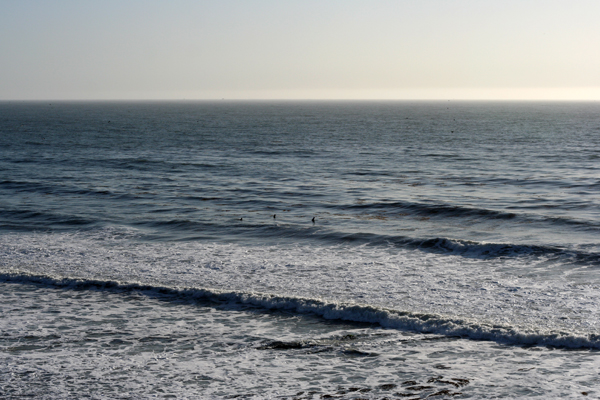 Driving back to Berkeley after a quick Thanksgiving jaunt in Santa Babara, I made Sarah pull over to take a peek at the swell just north of Pismo.
I didn't surf here–feeling a bit under the weather–but was still enjoying the residual stoke from the previous two days. On Thursday, I made it a point to hoof it down to Naples for the traditional Thanksgiving Surf. We decided to take the long route, since I hadn't been in a while and didn't know how strictly the trespassing laws were being enforced. At one point, we saw a security guard for the oil company, but we hushed up as we passed him and he didn't say anything. (*Whew!*)
In the end, it was totally worth it! Aside from a couple guys a half mile further north, I had the place to myself! (It's an out of the way spot, but on a decent day, this is still something of a rarity.) Glassy, stomach high peelers around the reef with longer, non-sectioning walls into the cove. Perfect. (Sarah ran around on the beach while I surfed.) It was great having Naples sans crowds, but I did kinda wish all my surf buddies were there to share the harvest.
So, the day after Thanksgiving, I went back for more! This time with Vanessa and Ben and Ed (who'd never even walked out to the place). There was a small crowd this time, but we went ahead and surfed the shit out of the place anyway. The tide was low enough that–sunburned, exhausted, and happy–we were able to walk back on the beach.
Man, I love Naples. (Sunset Palisades is sweet too, if you get it when it's glassy!)